Good Day, all you Sparrows & Arrows Peeps! I am Annika from
All The Live Long Day
and I am delighted to be guest posting here for you today! I
wrote
tried to write a embroidery tutorial and there is a giveaway involved, too, so read on to find out what the prize is and how to get your mitts on it!

When Jessi asked me to write something Halloweeny, I had just started a little project for a friend. This friend and I used to spent each Halloween together, watching scary movies. Now we live in separate cities and can't do that anymore, so I thought I would send her a little gift for old times sake.
One of my favourite things to do is cross stitching, and I found a cute Halloween design at Gazette94 that I decided to make. (Just FYI: Gazette94 is full of great cross stitch designs for all levels of capability. Sadly, the blog is no longer being updated, but the back catalogue of free downloadable charts is immense.)
It took me just a few nights huddled up on the sofa in front of the TV to stitch the scene. I made it into a wall or door hanging by using a piece of vintage fabric for the back, attaching a ribbon loop, sewing it all together, and stuffing it with cut up old tights and a few pieces of cinnamon and star anise for a nice, autumnal smell.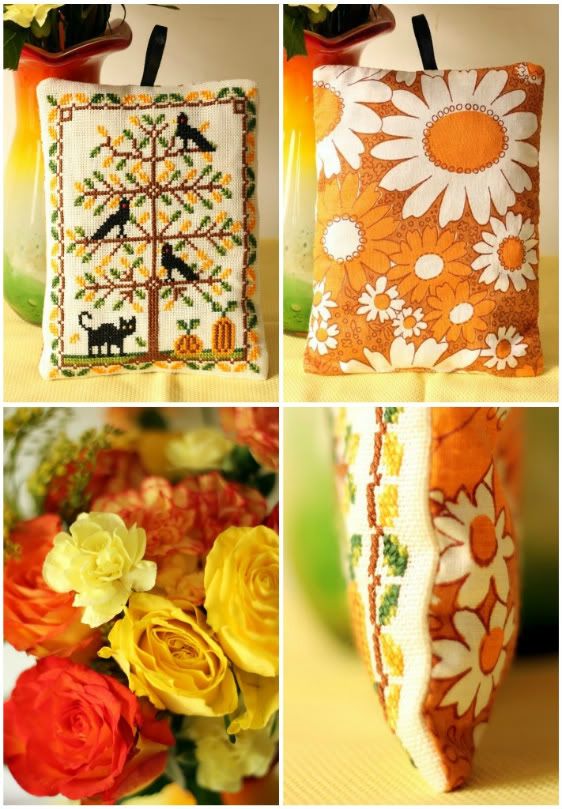 Even if you have never cross stitched before, it is probably the easiest of all embroidery techniques. All you need is a bit of an an eye for detail and some patience. The stitching itself is really simple.
A few things before you begin: a thread of regular stranded cotton is made up out of 6 single strands. I divided my stranded cotton in two, which gave me a thread of three strands to work with. You can choose to stitch with only two strands or with all six, it's up to you and will give you slightly different end results. I cut my thread to the length of about 30 cm, which makes it manageable and avoids tangles.
A typical piece of cross stitch fabric is weaved very loosely, so that you can easily see where you have to make your stitches. I work one cross stitch in a square of nine of these 'holes'.
The best way to start a cross stitch design is to determine the approximate middle point of the chart and of your fabric and start stitching from there. That way you make sure that you will have enough fabric on each side to properly complete the design.
When working with different colours, always start with the darkest shades first, and make sure you wash your hands before you pick up your embroidery. Otherwise the stitches might start to look a bit tatty after a while.
HOW TO DO THE ACTUAL STITCHES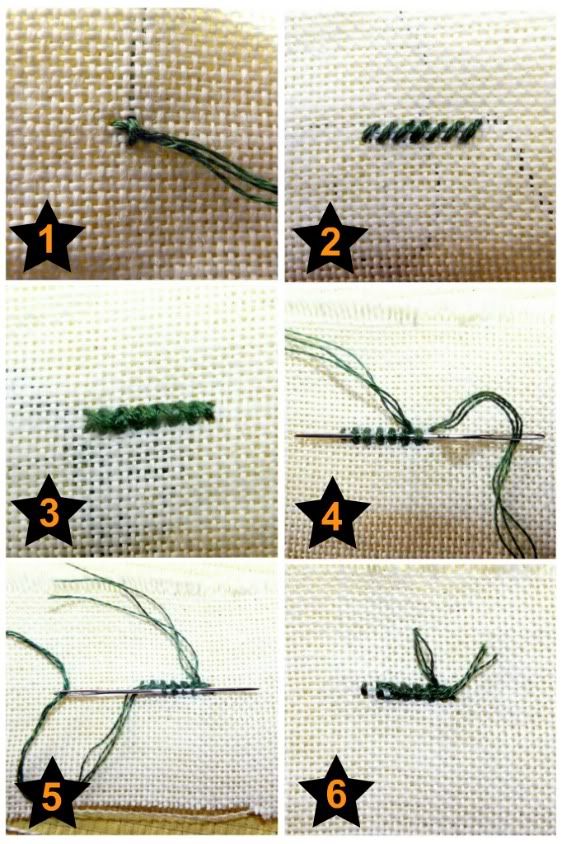 1. In order to make the first stitch, you could just make a knot in the end that will prevent it from pulling through the fabric, but I prefer to secure my first stitch by trapping it under the thread at the back. Push your needle into the space between the weave at the front of the fabric, pull it through almost all the way, holding it with one finger. When you push the needle through again from back to front, make sure the end of the thread is caught under that stitch.
2. To make a row of stitches, first complete the ones that point from left to right.
3. To complete the row, then stitch back from right to left. Neighbouring stitches will always share two 'holes'.
4. When you have used up your length of thread or need to start a new colour, secure the end of the thread at the back of your work by running it under a few stitches and back.
5. I find running it back and forth once under about 4 or 5 stitches does the trick.
6. Cut your thread very close to the fabric, in order to avoid bulk. This is especially important if you are planning on framing your work. In that case you would want it to lie as flat as possible.
After you finish your last stitch, do a little dance, admire your handiwork and then frame it, sew it into a door hanging like I did, make a mini-cushion, send it to somebody as a card or do whatever else you fancy.
And if you have trouble understanding what the heck I was trying to get across, go here for a better tutorial on cross stitching. (I am horrible at explaining things!)
If all of this looks like fun and you need a new project or would like to try your hand at cross stitching for the first time, come on over to All the Live Long Day now, where you can enter a giveaway to win one cross stitching set that contains everything you need to make this Halloween design.
Looking forward to seeing you!

© All The Live Long Day (unless otherwise stated)
-------------------------------------------------------------
Thanks Annika! I used to cross stitch when I was younger, my aunt taught me and I have been thinking about starting again - thanks for the inspiration to get back at it!!
Next time you are in Canada Annika,- come to our coast instead!